Episode two… episode… two…
Let's start from the beginning… we get a taste of another opening fight scene. It wasn't great, but not terrible either. I suppose the best part was watching Mando pull a fast one on the little jawa looking dude and blasting him off with his jet pack. It also showed us another little trick Mando has up his sleeve for possible future use.
From there things didn't really get us too far. Mando is looking for more Mandalorians and he gets an idea of where they are yet he's required to take a passenger with him, even though he already has a good idea of what system they're in before he even takes off…
Is it just me or is Mando being… too nice…??
I mean… He is still a bounty hunter yea?
Anyways, I did get really excited once he made it into space and was met by two Republic X-Wing fighters! I was really, really, REALLY hoping for a great dog fight here and yet… I was let down by Mando making a terrible exit from that fight. I loved the quality of the cinematography as they were flying through the clouds and the maneuvers he was making to try and lose them, but I guess I was hoping for more.
And was it just me or was anyone else waiting for Sigouney Weaver to jump out in an exo-suit and help Mando out?!? As I'm watching the ice cave scene unfold I'm thinking to myself, facehugger… facehugger… facehugger… and then…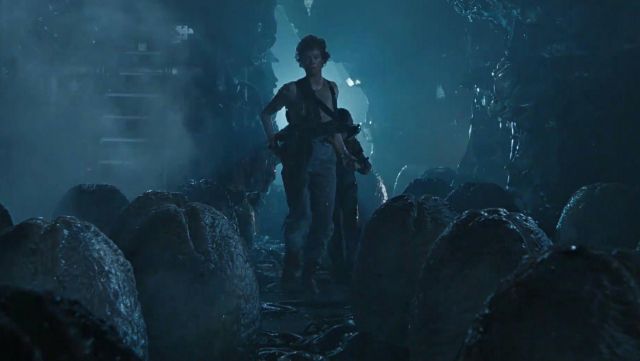 ERRR MERRR GERRRDDD!!!!! GIANT FACEHUGGER!!!!
The chase scene here was actually pretty entertaining and I loved the various sizes of the Star Wars facehuggers.
I was not a big fan of how this scene ended though. Why did the Republic fighters even bother to save Mando and then pretty much leave him for dead? They were pretty much saying we're going to help out but also… sucks to be you…
I don't know… I wasn't really feeling how that scene ended. It just felt a little cheap as a way for Mando to escape. I would have been okay if the Republic fighters had just helped him patch up his ship a bit and called it even stevens. Whatever…
After that, the episode ended a little abrubtly. I was expecting some sort of wrapup to the whole adventure but it looks like frogger will carry on to next week. On a final note…
Stop eat those eggs you little egg sucker!!